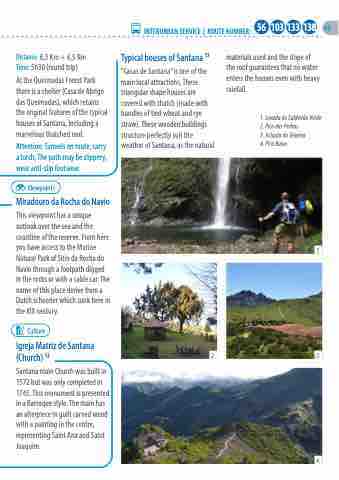 Distance: 6,5 Km + 6,5 Km Time: 5h30 (round trip)
materials used and the slope of the roof guarantees that no water enters the houses even with heavy rainfall.
1. Levada do Caldeirão Verde 2. Pico das Pedras
3. Achada do Teixeira
4. Pico Ruivo
INTERURBAN SERVICE | ROUTE NUMBER: 56 103 133 138 63
   Typical houses of Santana 13
"Casas de Santana" is one of the
At the Queimadas Forest Park
there is a shelter (Casa de Abrigo triangular shape houses are
 das Queimadas), which retains the original features of the typical houses of Santana, including a marvelous thatched roof.
Attention: Tunnels en route, carry a torch; The path may be slippery, wear anti-slip footwear.
Viewpoints
Miradouro da Rocha do Navio
This viewpoint has a unique outlook over the sea and the coastline of the reserve. From here you have access to the Marine Natural Park of Sitio da Rocha do Navio through a footpath digged in the rocks or with a cable car. The name of this place derive from a Dutch schooner which sunk here in the XIX century.
Culture
covered with thatch (made with bundles of tied wheat and rye straw). These wooden buildings structure perfectly suit the weather of Santana, as the natural
main local attractions. These
   1.
   Igreja Matriz de Santana
(Church) 12 2.
Santana main Church was built in 1572 but was only completed in 1745. This monument is presented in a Barroque style. The main has an alterpiece in guilt carved wood with a painting in the centre, representing Saint Ana and Saint Joaquim.
3.
  4.