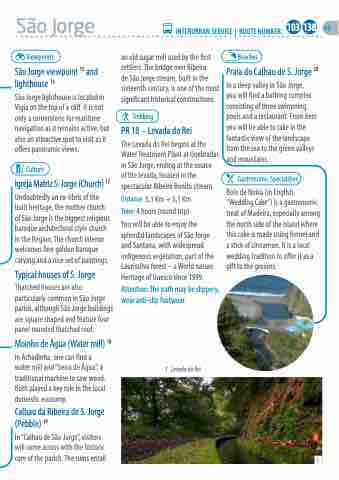 São Jorge
Viewpoints
São Jorge viewpoint 15 and
lighthouse 16
São Jorge lighthouse is located in Vigia on the top of a cliff. It is not only a cornerstone for maritime navigation as it remains active, but also an attractive spot to visit as it offers panoramic views.
Culture
Igreja Matriz S. Jorge (Church) 17 Undoubtedly an ex-libris of the
built heritage, the mother church of São Jorge is the biggest religious baroque architectural style church in the Region. The church interior welcomes fine golden Baroque carving and a nice set of paintings.
Typical houses of S. Jorge
Thatched houses are also particularly common in São Jorge parish, although São Jorge buildings are square shaped and feature four panel rounded thatched roof.
Moinho de Água (Water mill) 18
In Achadinha, one can find a water mill and "Serra de Água", a traditional machine to saw wood. Both played a key role in the local domestic economy.
Calhau da Ribeira de S. Jorge (Pebble) 19
In "Calhau de São Jorge", visitors will come across with the historic core of the parish. The ruins entail
INTERURBAN SERVICE | ROUTE NUMBER: 103 138 65
      an old sugar mill used by the first settlers. The bridge over Ribeira
de São Jorge stream, built in the sixteenth century, is one of the most significant historical constructions.
Trekking
PR 18 – Levada do Rei
The Levada do Rei begins at the Water Treatment Plant at Quebradas in São Jorge, ending at the source
of the levada, located in the spectacular Ribeiro Bonito stream.
Distance: 5,1 Km + 5,1 Km Time: 4 hours (round trip)
You will be able to enjoy the splendid landscapes of São Jorge and Santana, with widespread indigenous vegetation, part of the Laurissilva forest – a World nature Heritage of Unesco since 1999.
Attention: The path may be slippery, wear anti-slip footwear.
1. Levada do Rei
Beaches
Praia do Calhau de S. Jorge 20
In a deep valley in São Jorge,
you will find a bathing complex consisting of three swimming pools and a restaurant. From here you will be able to take in the fantastic view of the landscape from the sea to the green valleys and mountains.
Gastronomic Specialities
Bolo de Noiva (in English, "Wedding Cake") is a gastronomic treat of Madeira, especially among the north side of the Island where this cake is made using fennel and a stick of cinnamon. It is a local wedding tradition to offer it as a gift to the grooms.
          1.