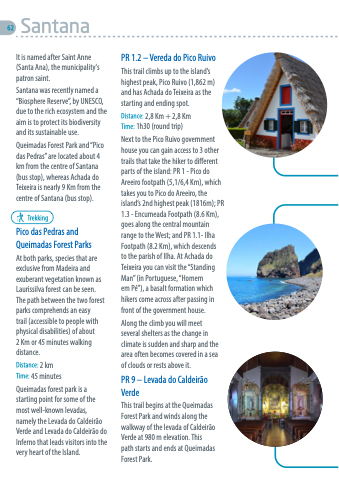 62 Santana
It is named after Saint Anne (Santa Ana), the municipality's patron saint.
Santana was recently named a "Biosphere Reserve", by UNESCO, due to the rich ecosystem and the aim is to protect its biodiversity and its sustainable use.
Queimadas Forest Park and "Pico das Pedras" are located about 4 km from the centre of Santana (bus stop), whereas Achada do Teixeira is nearly 9 Km from the centre of Santana (bus stop).
Trekking
Pico das Pedras and
Queimadas Forest Parks
At both parks, species that are exclusive from Madeira and exuberant vegetation known as Laurissilva forest can be seen. The path between the two forest parks comprehends an easy
trail (accessible to people with physical disabilities) of about 2 Km or 45 minutes walking distance.
Distance: 2 km Time: 45 minutes
PR 1.2 – Vereda do Pico Ruivo
This trail climbs up to the island's highest peak, Pico Ruivo (1,862 m) and has Achada do Teixeira as the starting and ending spot.
Distance: 2,8 Km + 2,8 Km Time: 1h30 (round trip)
Next to the Pico Ruivo government house you can gain access to 3 other trails that take the hiker to different parts of the island: PR 1 - Pico do Areeiro footpath (5,1/6,4 Km), which takes you to Pico do Areeiro, the island's 2nd highest peak (1816m); PR 1.3 - Encumeada Footpath (8.6 Km), goes along the central mountain range to the West; and PR 1.1- Ilha Footpath (8.2 Km), which descends
to the parish of Ilha. At Achada do Teixeira you can visit the "Standing Man" (in Portuguese, "Homem
em Pé"), a basalt formation which hikers come across after passing in front of the government house.
Along the climb you will meet several shelters as the change in climate is sudden and sharp and the area often becomes covered in a sea of clouds or rests above it.
PR 9 – Levada do Caldeirão
Verde
This trail begins at the Queimadas Forest Park and winds along the walkway of the levada of Caldeirão Verde at 980 m elevation. This path starts and ends at Queimadas Forest Park.
          Queimadas forest park is a starting point for some of the most well-known levadas, namely the Levada do Caldeirão Verde and Levada do Caldeirão do Inferno that leads visitors into the very heart of the Island.