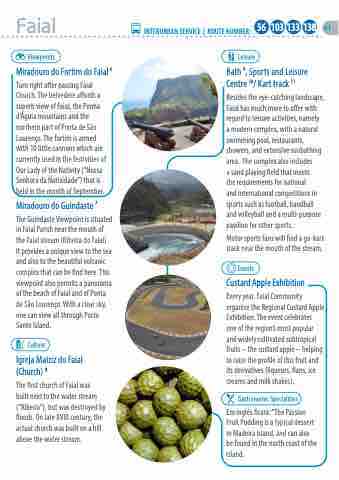 Faial
Viewpoints
Miradouro do Fortim do Faial 6
Turn right after passing Faial Church. The belvedere affords a superb view of Faial, the Penha d'Águia mountains and the northern part of Ponta de São Lourenço. The fortim is armed with 10 little cannons which are currently used in the festivities of Our Lady of the Nativity ("Nossa Senhora da Natividade") that is held in the month of September.
Miradouro do Guindaste 7
The Guindaste Viewpoint is situated in Faial Parish near the mouth of the Faial stream (Ribeira do Faial). It provides a unique view to the sea and also to the beautiful volcanic complex that can be find here. This viewpoint also permits a panorama of the beach of Faial and of Ponta de São Lourenço. With a clear sky, one can view all through Porto Santo Island.
Culture
Igreja Matriz do Faial (Church) 8
The first church of Faial was
built next to the water stream ("Ribeira"), but was destroyed by floods. On late XVIII century, the actual church was built on a hill above the water stream.
INTERURBAN SERVICE | ROUTE NUMBER: 56 103 133 138 61 Leisure
Bath 9, Sports and Leisure Centre 10/ Kart track 11
Besides the eye-catching landscape, Faial has much more to offer with regard to leisure activities, namely
a modern complex, with a natural swimming pool, restaurants, showers, and extensive sunbathing area. The complex also includes
a sand playing field that meets
the requirements for national
and international competitions in sports such as football, handball and volleyball and a multi-purpose pavilion for other sports.
Motor sports fans will find a go-kart track near the mouth of the stream.
Events
Custard Apple Exhibition
Every year, Faial Community organise the Regional Custard Apple Exhibition. The event celebrates
one of the region's most popular and widely cultivated subtropical fruits – the custard apple – helping to raise the profile of this fruit and its derivatives (liqueurs, flans, ice creams and milk shakes).
Gastronomic Specialities
Em inglês ficará: "The Passion Fruit Pudding is a typical dessert in Madeira Island, and can also be found in the north coast of the island.