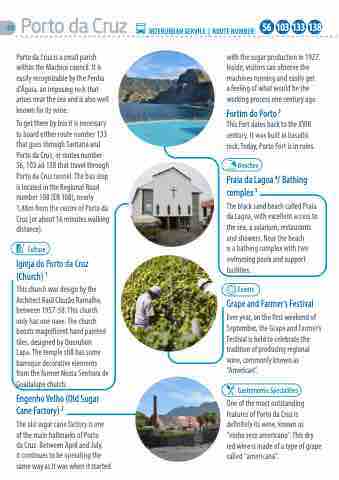 60
Porto da Cruz
Porto da Cruz is a small parish within the Machico council. It is easily recognizable by the Penha d'Águia, an imposing rock that arises near the sea and is also well known for its wine.
To get there by bus it is necessary to board either route number 133 that goes through Santana and Porto da Cruz, or routes number 56, 103 ad 138 that travel through Porto da Cruz tunnel. The bus stop is located in the Regional Road number 108 (ER 108), nearly 1,4Km from the centre of Porto da Cruz (or about 16 minutes walking distance).
Culture
Igreja do Porto da Cruz (Church) 1
This church was design by the Architect Raúl Chorão Ramalho, between 1957-58. This church only has one nave. The church boosts magnificent hand painted tiles, designed by Querubim
Lapa. The temple still has some barroque decorative elements from the former Nossa Senhora de Guadalupe church.
Engenho Velho (Old Sugar Cane Factory) 2
The old sugar cane factory is one of the main hallmarks of Porto
da Cruz. Between April and July,
it continues to be operating the same way as it was when it started
INTERURBAN SERVICE | ROUTE NUMBER: 56 103 133 138
with the sugar production in 1927. Inside, visitors can observe the machines running and easily get
a feeling of what would be the working process one century ago.
Fortim do Porto 3
This Fort dates back to the XVIII century. It was built in basaltic rock. Today, Porto Fort is in ruins.
Beaches
Praia da Lagoa 4/ Bathing
complex 5
The black sand beach called Praia da Lagoa, with excellent access to the sea, a solarium, restaurants and showers. Near the beach
is a bathing complex with two swimming pools and support facilities.
Events
Grape and Farmer's Festival
Ever year, on the first weekend of September, the Grape and Farmer's Festival is held to celebrate the tradition of producing regional wine, commonly known as "American".
Gastronomic Specialities
One of the most outstanding features of Porto da Cruz is definitely its wine, known as "vinho seco americano". This dry red wine is made of a type of grape called "americana".