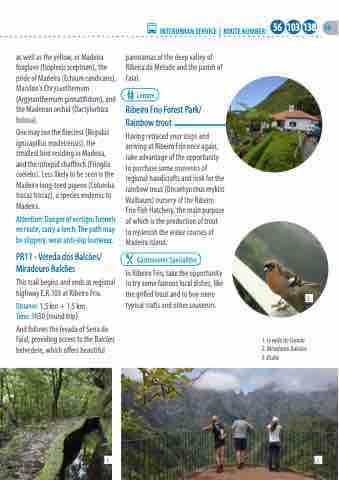 INTERURBAN SERVICE | ROUTE NUMBER:
56 103 138
59
  as well as the yellow, or Madeira foxglove (Isoplexis sceptrum), the pride of Madeira (Echium candicans), Mandon's Chrysanthemum (Argyranthemum pinnatifidum), and the Madeiran orchid (Dactylorhiza foliosa).
One may see the firecrest (Regulus ignicapillus madeirensis), the smallest bird residing in Madeira, and the intrepid chaffinch (Fringila coelebs). Less likely to be seen is the Madeira long-toed pigeon (Columba trocaz trocaz), a species endemic to Madeira.
Attention: Danger of vertigo; Tunnels en route, carry a torch; The path may be slippery, wear anti-slip footwear.
PR11 - Vereda dos Balcões/
Miradouro Balcões
This trail begins and ends at regional highway E.R.103 at Ribeiro Frio.
Distance: 1,5 km + 1,5 km Time: 1h30 (round trip)
And follows the levada of Serra do Faial, providing access to the Balcões belvedere, which offers beautiful
panoramas of the deep valley of Ribeira da Metade and the parish of Faial.
Leisure
Ribeiro Frio Forest Park/
Rainbow trout
Having retraced your steps and arriving at Ribeiro Frio once again, take advantage of the opportunity to purchase some souvenirs of regional handicrafts and look for the rainbow trout (Oncorhynchus mykiss Walbaum) nursery of the Ribeiro Frio Fish Hatchery, the main purpose of which is the production of trout to replenish the water courses of Madeira Island.
Gastronomic Specialities
In Ribeiro Frio, take the opportunity to try some famous local dishes, like the grilled trout and to buy some typical crafts and other souvenirs.
3.
     1. Levada do Furado 2. Miradouro Balcões 3. Bisbis
  1.
2.