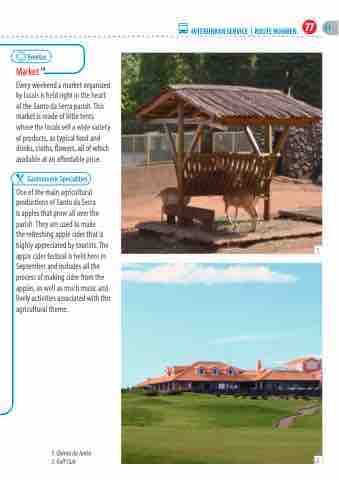 Eventos
Market 14
Every weekend a market organized by locals is held right in the heart of the Santo da Serra parish. This market is made of little tents where the locals sell a wide variety of products, as typical food and drinks, cloths, flowers, all of which available at an affordable price.
Gastronomic Specialities
One of the main agricultural productions of Santo da Serra
is apples that grow all over the parish. They are used to make
the refreshing apple cider that is highly appreciated by tourists. The apple cider festival is held here in September and includes all the process of making cider from the apples, as well as much music and lively activities associated with this agricultural theme.
1.
INTERURBAN SERVICE | ROUTE NUMBER: 77
51
         1. Quinta da Junta 2. Golf Club
2.