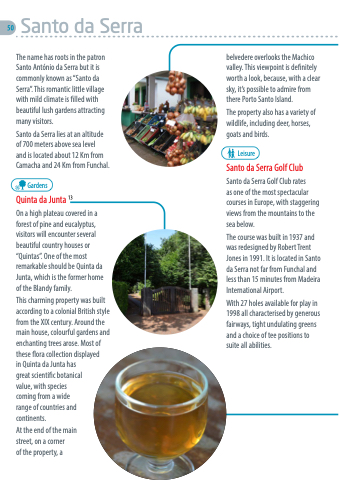 50
Santo da Serra
The name has roots in the patron Santo António da Serra but it is commonly known as "Santo da Serra". This romantic little village with mild climate is filled with beautiful lush gardens attracting many visitors.
Santo da Serra lies at an altitude of 700 meters above sea level
and is located about 12 Km from Camacha and 24 Km from Funchal.
Gardens
Quinta da Junta 13
On a high plateau covered in a forest of pine and eucalyptus, visitors will encounter several beautiful country houses or "Quintas". One of the most remarkable should be Quinta da Junta, which is the former home of the Blandy family.
This charming property was built according to a colonial British style from the XIX century. Around the main house, colourful gardens and enchanting trees arose. Most of these flora collection displayed
in Quinta da Junta has great scientific botanical value, with species coming from a wide range of countries and continents.
At the end of the main street, on a corner
of the property, a
   belvedere overlooks the Machico valley. This viewpoint is definitely worth a look, because, with a clear sky, it's possible to admire from there Porto Santo Island.
The property also has a variety of wildlife, including deer, horses, goats and birds.
Leisure
Santo da Serra Golf Club
Santo da Serra Golf Club rates
as one of the most spectacular courses in Europe, with staggering views from the mountains to the sea below.
The course was built in 1937 and was redesigned by Robert Trent Jones in 1991. It is located in Santo da Serra not far from Funchal and less than 15 minutes from Madeira International Airport.
With 27 holes available for play in 1998 all characterised by generous fairways, tight undulating greens and a choice of tee positions to suite all abilities.