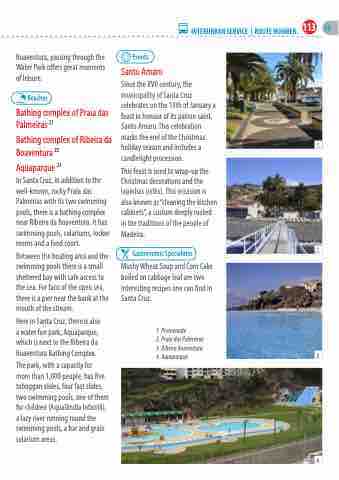 INTERURBAN SERVICE | ROUTE NUMBER: 113
53
    Boaventura, passing through the Water Park offers great moments of leisure.
Beaches
Bathing complex of Praia das Palmeiras 21
Bathing complex of Ribeira da Boaventura 22
Aquaparque 23
In Santa Cruz, in addition to the well-known, rocky Praia das Palmeiras with its two swimming pools, there is a bathing complex near Ribeira da Boaventura. It has swimming pools, solariums, locker rooms and a food court.
Between the boating area and the swimming pools there is a small sheltered bay with safe access to the sea. For fans of the open sea, there is a pier near the bank at the mouth of the stream.
Here in Santa Cruz, there is also a water fun park, Aquaparque, which is next to the Ribeira da Boaventura Bathing Complex.
The park, with a capacity for
more than 1,000 people, has five toboggan slides, four fast slides, two swimming pools, one of them for children (Aqualândia Infantil), a lazy river running round the swimming pools, a bar and grass solarium areas.
Events
Santo Amaro
Since the XVII century, the municipality of Santa Cruz celebrates on the 15th of January a feast in honour of its patron saint, Santo Amaro. This celebration marks the end of the Christmas holiday season and includes a candlelight procession.
This feast is used to wrap-up the Christmas decorations and the lapinhas (cribs). This occasion is also known as "cleaning the kitchen cabinets", a custom deeply rooted in the traditions of the people of Madeira.
Gastronomic Specialities
Mushy Wheat Soup and Corn Cake boiled on cabbage leaf are two interesting recipes one can find in Santa Cruz.
1. Promenade
2. Praia das Palmeiras 3. Ribeira Boaventura 4. Aquaparque
1.
   2.
  3.
 4.