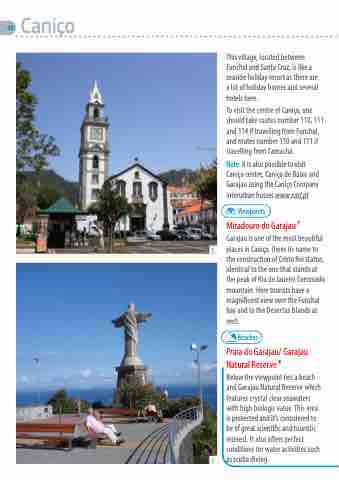 48 Caniço
      1.
This village, located between Funchal and Santa Cruz, is like a seaside holiday resort as there are a lot of holiday homes and several hotels here.
To visit the centre of Caniço, one should take routes number 110, 111 and 114 if travelling from Funchal, and routes number 110 and 111 if travelling from Camacha.
Note: it is also possible to visit Caniço centre, Caniço de Baixo and Garajau using the Caniço Company interurban busses www.eacl.pt
Viewpoints
Miradouro do Garajau 7
Garajau is one of the most beautiful places in Caniço. Owes its name to the construction of Cristo Rei statue, identical to the one that stands at the peak of Rio de Janeiro Corcovado mountain. Here tourists have a magnificent view over the Funchal bay and to the Desertas Islands as well.
Beaches
Praia do Garajau/ Garajau Natural Reserve 8
Below the viewpoint lies a beach and Garajau Natural Reserve which features crystal clear seawaters with high biologic value. This area is protected and it's considered to be of great scientific and touristic interest. It also offers perfect conditions for water activities such as scuba diving.
   2.