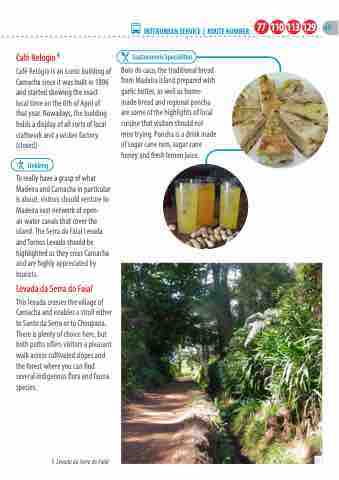 INTERURBAN SERVICE | ROUTE NUMBER:
77 110 113 129
47
   Café Relógio 6
Café Relógio is an iconic building of Camacha since it was built in 1896 and started showing the exact local time on the 6th of April of that year. Nowadays, the building holds a display of all sorts of local craftwork and a wicker factory.
Trekking
To really have a grasp of what Madeira and Camacha in particular is about, visitors should venture to Madeira vast network of open-
air water canals that cover the island. The Serra do Faial Levada and Tornos Levada should be highlighted as they cross Camacha and are highly appreciated by tourists.
Levada da Serra do Faial
This levada crosses the village of Camacha and enables a stroll either to Santo da Serra or to Choupana. There is plenty of choice here, but both paths offers visitors a pleasant walk across cultivated slopes and the forest where you can find several indigenous flora and fauna species.
Gastronomic Specialities
Bolo do caco, the traditional bread from Madeira Island prepared with garlic butter, as well as home- made bread and regional poncha are some of the highlights of local cuisine that visitors should not miss trying. Poncha is a drink made of sugar cane rum, sugar cane honey and fresh lemon juice.
     1. Levada da Serra do Faial
1.