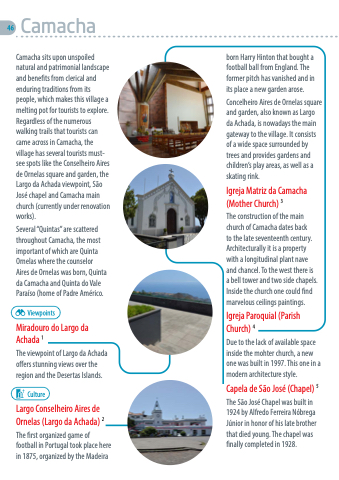 46 Camacha
Camacha sits upon unspoiled natural and patrimonial landscape and benefits from clerical and enduring traditions from its people, which makes this village a melting pot for tourists to explore. Regardless of the numerous walking trails that tourists can came across in Camacha, the village has several tourists must- see spots like the Conselheiro Aires de Ornelas square and garden, the Largo da Achada viewpoint, São José chapel and Camacha main church (currently under renovation works).
Several "Quintas" are scattered throughout Camacha, the most important of which are Quinta Ornelas where the counselor Aires de Ornelas was born, Quinta da Camacha and Quinta do Vale Paraíso (home of Padre Américo.
Viewpoints
Miradouro do Largo da Achada 1
The viewpoint of Largo da Achada offers stunning views over the region and the Desertas Islands.
Culture
Largo Conselheiro Aires de Ornelas (Largo da Achada) 2
The first organized game of football in Portugal took place here in 1875, organized by the Madeira
born Harry Hinton that bought a football ball from England. The former pitch has vanished and in its place a new garden arose.
Concelheiro Aires de Ornelas square and garden, also known as Largo da Achada, is nowadays the main gateway to the village. It consists of a wide space surrounded by trees and provides gardens and children's play areas, as well as a skating rink.
Igreja Matriz da Camacha (Mother Church) 3
The construction of the main church of Camacha dates back
to the late seventeenth century. Architecturally it is a property with a longitudinal plant nave and chancel. To the west there is a bell tower and two side chapels. Inside the church one could find marvelous ceilings paintings.
Igreja Paroquial (Parish
Church) 4
Due to the lack of available space inside the mohter church, a new one was built in 1997. This one in a modern architecture style.
Capela de São José (Chapel) 5
The São José Chapel was built in 1924 by Alfredo Ferreira Nóbrega Júnior in honor of his late brother that died young. The chapel was finally completed in 1928.