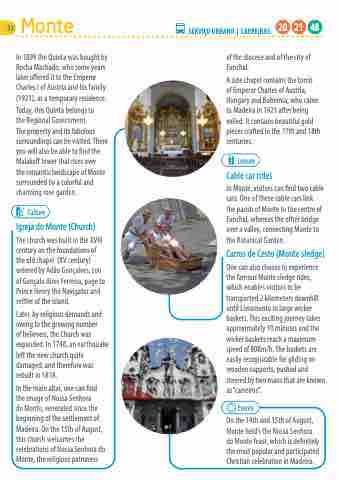 32
Monte
In 1899 the Quinta was bought by Rocha Machado, who some years later offered it to the Emperor Charles I of Austria and his family (1921), as a temporary residence.
Today, this Quinta belongs to
the Regional Government.
The property and its fabulous surroundings can be visited. There you will also be able to find the Malakoff tower that rises over
the romantic landscape of Monte surrounded by a colorful and charming rose garden.
Culture
Igreja do Monte (Church)
The church was built in the XVIII century on the foundations of the old chapel (XV century) ordered by Adão Gonçalves, son of Gonçalo Aires Ferreira, page to Prince Henry the Navigator and settler of the island.
Later, by religious demands and owing to the growing number
of believers, the Church was expanded. In 1748, an earthquake left the new church quite damaged, and therefore was rebuilt in 1818.
In the main altar, one can find the image of Nossa Senhora
do Monte, venerated since the beginning of the settlement of Madeira. On the 15th of August, this church welcomes the celebrations of Nossa Senhora do Monte, the religious patroness
SERVIÇO URBANO | CARREIRAS: 20 21 48 of the diocese and of the city of
Funchal.
A side chapel contains the tomb
of Emperor Charles of Austria, Hungary and Bohemia, who came to Madeira in 1921 after being exiled. It contains beautiful gold pieces crafted in the 17th and 18th centuries.
Leisure Cable car rides
In Monte, visitors can find two cable cars. One of these cable cars link
the parish of Monte to the centre of Funchal, whereas the other bridge over a valley, connecting Monte to the Botanical Garden.
Carros de Cesto (Monte sledge)
One can also choose to experience the famous Monte sledge rides, which enables visitors to be transported 2 kilometers downhill until Livramento in large wicker baskets. This exciting journey takes approximately 10 minutes and the wicker baskets reach a maximum speed of 80Km/h. The baskets are easily recognizable for gliding on wooden supports, pushed and steered by two mans that are known as "carreiros".
Events
On the 14th and 15th of August, Monte held's the Nossa Senhora do Monte feast, which is definitely the most popular and participated Christian celebration in Madeira.