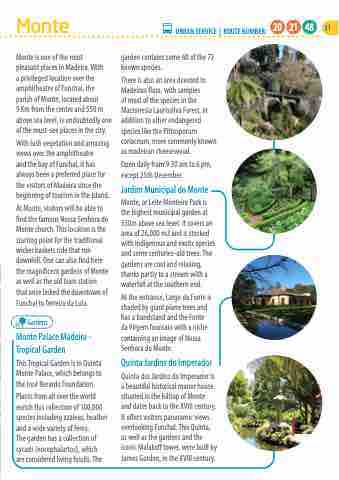 Monte
Monte is one of the most
pleasant places in Madeira. With
a privileged location over the amphitheatre of Funchal, the parish of Monte, located about
9 Km from the centre and 550 m above sea level, is undoubtedly one of the must-see places in the city.
With lush vegetation and amazing views over the amphitheatre
and the bay of Funchal, it has always been a preferred place for the visitors of Madeira since the beginning of tourism in the Island.
At Monte, visitors will be able to find the famous Nossa Senhora do Monte church. This location is the starting point for the traditional wicker baskets ride that run downhill. One can also find here the magnificent gardens of Monte as well as the old train station that once linked the downtown of Funchal to Terreiro da Luta.
Gardens
Jardim Tropical Monte Palace
The Monte Palace Tropical Garden is in Quinta Monte Palace, which belongs to the José Berardo Foundation.
Plants from all over the world enrich this collection of 100,000 species including azaleas, heather and a wide variety of ferns.
The garden has a collection of cycads (encephalartos), which
are considered living fossils. The
URBAN SERVICE | ROUTE NUMBER:
20 21 48 31
     garden contains some 60 of the 72 known species.
There is also an area devoted to Madeiran flora, with samples
of most of the species in the Macronesia Laurissilva Forest, in addition to other endangered species like the Pittosporum coriaceum, more commonly known as madeiran cheesewood.
Open daily from 9.30 a.m. to 6 p.m., except 25th December.
Jardim Municipal do Monte
Monte, or Leite Monteiro Park is the highest municipal garden at 550m above sea level. It covers an area of 26,000 m2 and is stocked with indigenous and exotic species and some centuries-old trees. The gardens are cool and relaxing, thanks partly to a stream with a waterfall at the southern end.
At the entrance, Largo da Fonte is shaded by giant plane trees and has a bandstand and the Fonte da Virgem fountain with a niche containing an image of Nossa Senhora do Monte.
Quinta Jardins do Imperador
Quinta dos Jardins do Imperador is a beautiful historical manor house situated in the hilltop of Monte
and dates back to the XVIII century. It offers visitors panoramic views overlooking Funchal. This Quinta, as well as the gardens and the iconic Malakoff tower, were built by James Gordon, in the XVIII century.