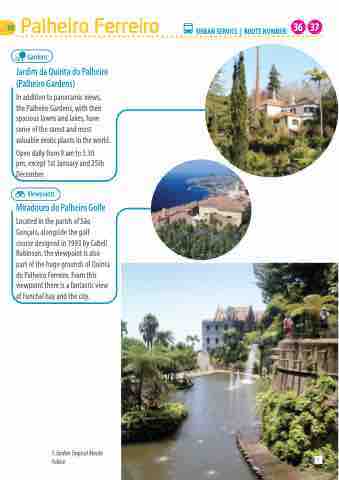 30
Palheiro Ferreiro
Gardens
Jardim da Quinta do Palheiro
(Palheiro Gardens)
In addition to panoramic views, the Palheiro Gardens, with their spacious lawns and lakes, have some of the rarest and most valuable exotic plants in the world.
Open daily from 9 a.m. to 5.30 p.m., except 1st January and 25th December.
Viewpoints
Miradouro do Palheiro Golfe
Located in the parish of São Gonçalo, alongside the golf
course designed in 1993 by Cabell Robinson, the viewpoint is also part of the huge grounds of Quinta do Palheiro Ferreiro. From this viewpoint there is a fantastic view of Funchal bay and the city.
URBAN SERVICE | ROUTE NUMBER:
36 37
          1.Jardim Tropical Monte Palace
1.