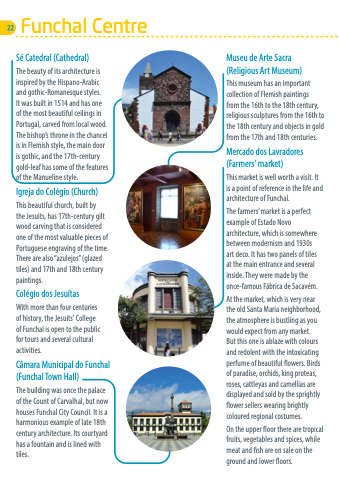 22
Funchal Centre
Sé Catedral (Cathedral)
The beauty of its architecture is inspired by the Hispano-Arabic and gothic-Romanesque styles.
It was built in 1514 and has one of the most beautiful ceilings in Portugal, carved from local wood. The bishop's throne in the chancel is in Flemish style, the main door is gothic, and the 17th-century gold-leaf has some of the features of the Manueline style.
Igreja do Colégio (Church)
This beautiful church, built by
the Jesuits, has 17th-century gilt wood carving that is considered one of the most valuable pieces of Portuguese engraving of the time. There are also "azulejos" (glazed tiles) and 17th and 18th century paintings.
Colégio dos Jesuítas
With more than four centuries of history, the Jesuits' College of Funchal is open to the public for tours and several cultural activities.
Câmara Municipal do Funchal
(Funchal Town Hall)
The building was once the palace of the Count of Carvalhal, but now houses Funchal City Council. It is a harmonious example of late 18th century architecture. Its courtyard has a fountain and is lined with tiles.
   Museu de Arte Sacra
(Religious Art Museum)
This museum has an important collection of Flemish paintings
from the 16th to the 18th century, religious sculptures from the 16th to the 18th century and objects in gold from the 17th and 18th centuries.
Mercado dos Lavradores
(Farmers' market)
This market is well worth a visit. It is a point of reference in the life and architecture of Funchal.
The farmers' market is a perfect example of Estado Novo architecture, which is somewhere between modernism and 1930s art deco. It has two panels of tiles at the main entrance and several inside. They were made by the once-famous Fábrica de Sacavém.
At the market, which is very near the old Santa Maria neighborhood, the atmosphere is bustling as you would expect from any market. But this one is ablaze with colours and redolent with the intoxicating perfume of beautiful flowers. Birds of paradise, orchids, king proteas, roses, cattleyas and camellias are displayed and sold by the sprightly flower sellers wearing brightly coloured regional costumes.
On the upper floor there are tropical fruits, vegetables and spices, while meat and fish are on sale on the ground and lower floors.