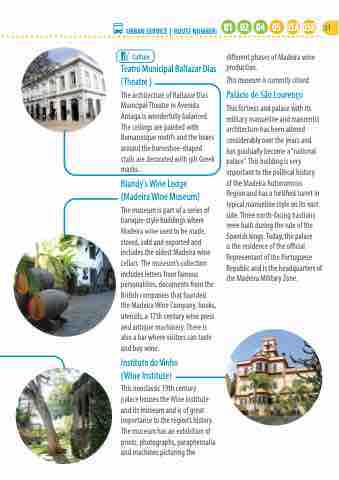 URBAN SERVICE | ROUTE NUMBER: 01 02 04 05 05A 21
     Culture
Teatro Municipal Baltazar Dias (Theatre )
The architecture of Baltazar Dias Municipal Theatre in Avenida Arriaga is wonderfully balanced. The ceilings are painted with Romanesque motifs and the boxes around the horseshoe-shaped stalls are decorated with gilt Greek masks.
Museu da Madeira Wine
(Madeira Wine Museum)
The museum is part of a series of baroque-style buildings where Madeira wine used to be made, stored, sold and exported and includes the oldest Madeira wine cellars. The museum's collection includes letters from famous personalities, documents from the British companies that founded the Madeira Wine Company, books, utensils, a 17th century wine press and antique machinery. There is also a bar where visitors can taste and buy wine.
Instituto do Vinho
(Wine Institute)
This neoclassic 19th century palace houses the Wine Institute and its museum and is of great importance to the region's history. The museum has an exhibition of prints, photographs, paraphernalia and machines picturing the
different phases of Madeira wine production.
This museum is currently closed.
Palácio de São Lourenço
This fortress and palace with its military manueline and mannerist architecture has been altered considerably over the years and has gradually become a "national palace". This building is very important to the political history of the Madeira Autonomous Region and has a fortified turret in typical manueline style on its east side. Three north-facing bastions were built during the rule of the Spanish kings. Today, the palace
is the residence of the official Representant of the Portuguese Republic and is the headquarters of the Madeira Military Zone.