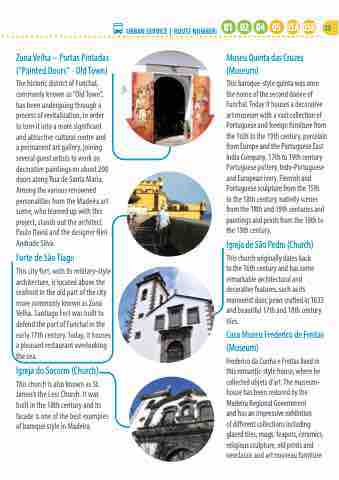 Zona Velha – Portas Pintadas
("Painted Doors" - Old Town)
The historic district of Funchal, commonly known as "Old Town", has been undergoing through a process of revitalization, in order to turn it into a more significant and attractive cultural centre and a permanent art gallery, joining several guest artists to work on decorative paintings on about 200 doors along Rua de Santa Maria. Among the various renowned personalities from the Madeira art scene, who teamed up with this project, stands out the architect Paulo David and the designer Nini Andrade Silva.
Forte de São Tiago
This city fort, with its military-style architecture, is located above the seafront in the old part of the city more commonly known as Zona Velha. Santiago Fort was built to defend the port of Funchal in the early 17th century. Today, it houses a pleasant restaurant overlooking the sea.
Igreja do Socorro (Church)
This church is also known as St. James's the Less Church. It was built in the 18th century and its facade is one of the best examples of baroque style in Madeira.
URBAN SERVICE | ROUTE NUMBER: 01 02 04 05 05A 23
Museu Quinta das Cruzes
(Museum)
This baroque-style quinta was once the home of the second donee of Funchal. Today it houses a decorative art museum with a vast collection of Portuguese and foreign furniture from the 16th to the 19th century, porcelain from Europe and the Portuguese East India Company, 17th to 19th century Portuguese pottery, Indo-Portuguese and European ivory, Flemish and Portuguese sculpture from the 15th
to the 18th century, nativity scenes from the 18th and 19th centuries and paintings and prints from the 16th to the 19th century.
Igreja de São Pedro (Church)
This church originally dates back
to the 16th century and has some remarkable architectural and decorative features, such as its mannerist door, pews crafted in 1633 and beautiful 17th and 18th century tiles.
Casa Museu Frederico de Freitas
(Museum)
Frederico da Cunha e Freitas lived in this romantic-style house, where he collected objets d'art. The museum- house has been restored by the Madeira Regional Government
and has an impressive exhibition
of different collections including glazed tiles, mugs, teapots, ceramics, religious sculpture, old prints and neoclassic and art nouveau furniture.