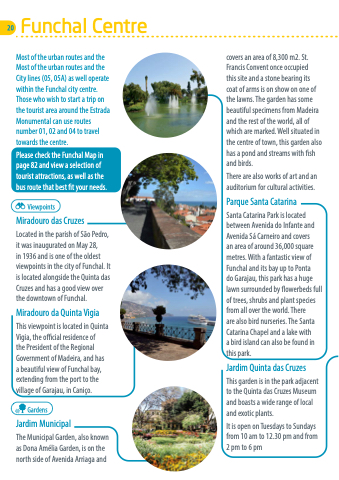 20
Funchal Centre
Most of the urban routes and the Most of the urban routes and the City lines (05, 05A) as well operate within the Funchal city centre. Those who wish to start a trip on the tourist area around the Estrada Monumental can use routes number 01, 02 and 04 to travel towards the centre.
Please check the Funchal Map in page 82 and view a selection of tourist attractions, as well as the bus route that best fit your needs.
Viewpoints Miradouro das Cruzes
Located in the parish of São Pedro, it was inaugurated on May 28,
in 1936 and is one of the oldest viewpoints in the city of Funchal. It is located alongside the Quinta das Cruzes and has a good view over the downtown of Funchal.
Miradouro da Quinta Vigia
This viewpoint is located in Quinta Vigia, the official residence of
the President of the Regional Government of Madeira, and has a beautiful view of Funchal bay, extending from the port to the village of Garajau, in Caniço.
Gardens
Jardim Municipal
The Municipal Garden, also known as Dona Amélia Garden, is on the north side of Avenida Arriaga and
  covers an area of 8,300 m2. St. Francis Convent once occupied
this site and a stone bearing its coat of arms is on show on one of the lawns. The garden has some beautiful specimens from Madeira and the rest of the world, all of which are marked. Well situated in the centre of town, this garden also has a pond and streams with fish and birds.
There are also works of art and an auditorium for cultural activities.
Parque Santa Catarina
Santa Catarina Park is located between Avenida do Infante and Avenida Sá Carneiro and covers
an area of around 36,000 square metres. With a fantastic view of Funchal and its bay up to Ponta
do Garajau, this park has a huge lawn surrounded by flowerbeds full of trees, shrubs and plant species from all over the world. There
are also bird nurseries. The Santa Catarina Chapel and a lake with a bird island can also be found in this park.
Jardim Quinta das Cruzes
This garden is in the park adjacent to the Quinta das Cruzes Museum and boasts a wide range of local and exotic plants.
It is open on Tuesdays to Sundays from 10 a.m. to 12.30 p.m. and from 2 p.m. to 6 p.m.