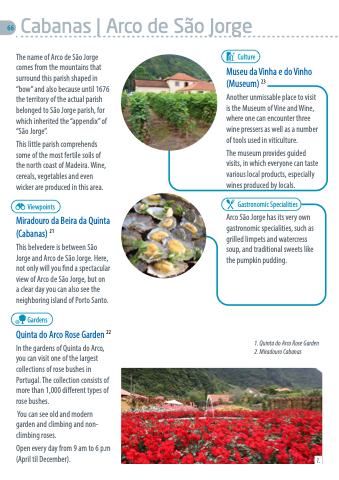 66
Cabanas | Arco de São Jorge
   The name of Arco de São Jorge comes from the mountains that surround this parish shaped in "bow" and also because until 1676 the territory of the actual parish belonged to São Jorge parish, for which inherited the "appendix" of "São Jorge".
This little parish comprehends some of the most fertile soils of the north coast of Madeira. Wine, cereals, vegetables and even wicker are produced in this area.
Viewpoints
Miradouro da Beira da Quinta (Cabanas) 21
This belvedere is between São Jorge and Arco de São Jorge. Here, not only will you find a spectacular view of Arco de São Jorge, but on
a clear day you can also see the neighboring island of Porto Santo.
Gardens
Quinta do Arco Rose Garden 22
In the gardens of Quinta do Arco, you can visit one of the largest collections of rose bushes in Portugal. The collection consists of more than 1,000 different types of rose bushes.
You can see old and modern garden and climbing and non- climbing roses.
Open every day from 9 a.m. to 6 p.m (April til December).
Culture
Museu da Vinha e do Vinho
(Museum) 23
Another unmissable place to visit is the Museum of Vine and Wine, where one can encounter three wine pressers as well as a number of tools used in viticulture.
The museum provides guided visits, in which everyone can taste various local products, especially wines produced by locals.
Gastronomic Specialities
Arco São Jorge has its very own gastronomic specialities, such as grilled limpets and watercress soup, and traditional sweets like the pumpkin pudding.
       1. Quinta do Arco Rose Garden 2. Miradouro Cabanas
 1.