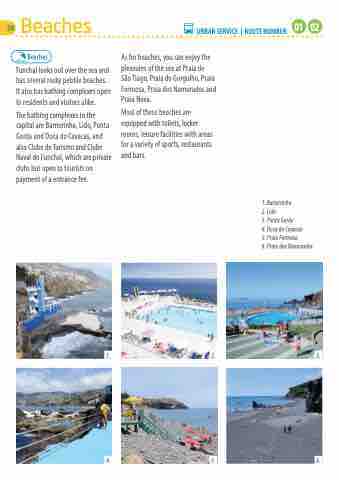 28
Beaches
Beaches
Funchal looks out over the sea and has several rocky pebble beaches. It also has bathing complexes open to residents and visitors alike.
The bathing complexes in the capital are Barreirinha, Lido, Ponta Gorda and Doca do Cavacas, and also Clube de Turismo and Clube Naval do Funchal, which are private clubs but open to tourists on payment of a entrance fee.
URBAN SERVICE | ROUTE NUMBER: 01 02
    As for beaches, you can enjoy the pleasures of the sea at Praia de
São Tiago, Praia do Gorgulho, Praia Formosa, Praia dos Namorados and Praia Nova.
Most of these beaches are equipped with toilets, locker rooms, leisure facilities with areas for a variety of sports, restaurants and bars.
1. Barreirinha
2. Lido
3. Ponta Gorda
4. Doca do Cavacas
5. Praia Formosa
6. Praia dos Namorados
   1. 2.
3.
   4. 5.
6.