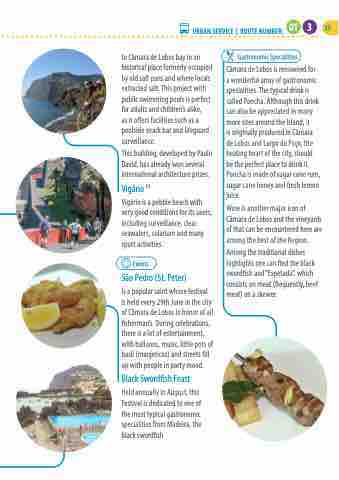 URBAN SERVICE | ROUTE NUMBER: 01 3 35
     to Câmara de Lobos bay in an historical place formerly occupied by old salt pans and where locals extracted salt. This project with public swimming pools is perfect for adults and children's alike,
as it offers facilities such as a poolside snack bar and lifeguard surveillance.
This building, developed by Paulo David, has already won several international architecture prizes.
Vigário 11
Vigário is a pebble beach with very good conditions for its users, including surveillance, clear seawaters, solarium and many sport activities.
Events
São Pedro (St. Peter)
Is a popular saint whose festival is held every 29th June in the city of Câmara de Lobos in honor of all fisherman's. During celebrations, there is a lot of entertainment, with balloons, music, little pots of basil (manjericos) and streets fill up with people in party mood.
Black Swordfish Feast
Held annually in August, this Festival is dedicated to one of the most typical gastronomic specialities from Madeira, the black swordfish.
Gastronomic Specialities
Câmara de Lobos is renowned for a wonderful array of gastronomic specialities. The typical drink is called Poncha. Although this drink can also be appreciated in many more sites around the Island, it
is originally produced in Câmara de Lobos and Largo do Poço, the beating heart of the city, should be the perfect place to drink it. Poncha is made of sugar cane rum, sugar cane honey and fresh lemon juice.
Wine is another major icon of Câmara de Lobos and the vineyards of that can be encountered here are among the best of the Region.
Among the traditional dishes highlights one can find the black swordfish and "Espetada", which consists on meat (frequently, beef meat) on a skewer.