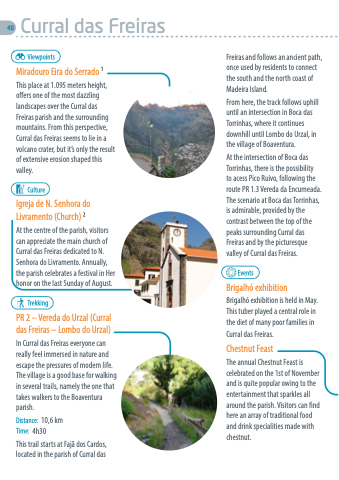 40
Curral das Freiras
Viewpoints
Miradouro Eira do Serrado 1
This place at 1.095 meters height, offers one of the most dazzling landscapes over the Curral das Freiras parish and the surrounding mountains. From this perspective, Curral das Freiras seems to lie in a volcano crater, but it's only the result of extensive erosion shaped this valley.
Culture
Igreja de N. Senhora do
Livramento (Church) 2
At the centre of the parish, visitors can appreciate the main church of Curral das Freiras dedicated to N. Senhora do Livramento. Annually, the parish celebrates a festival in Her honor on the last Sunday of August.
Trekking
PR 2 – Vereda do Urzal (Curral
das Freiras – Lombo do Urzal)
In Curral das Freiras everyone can really feel immersed in nature and escape the pressures of modern life. The village is a good base for walking in several trails, namely the one that takes walkers to the Boaventura parish.
Distance: 10,6 km Time: 4h30
This trail starts at Fajã dos Cardos, located in the parish of Curral das
   Freiras and follows an ancient path, once used by residents to connect the south and the north coast of Madeira Island.
From here, the track follows uphill until an intersection in Boca das Torrinhas, where it continues downhill until Lombo do Urzal, in the village of Boaventura.
At the intersection of Boca das Torrinhas, there is the possibility
to acess Pico Ruivo, following the route PR 1.3 Vereda da Encumeada. The scenario at Boca das Torrinhas, is admirable, provided by the contrast between the top of the peaks surrounding Curral das Freiras and by the picturesque valley of Curral das Freiras.
Events
Brigalhó exhibition
Brigalhó exhibition is held in May. This tuber played a central role in the diet of many poor families in
Curral das Freiras.
Chestnut Feast
The annual Chestnut Feast is celebrated on the 1st of November and is quite popular owing to the entertainment that sparkles all around the parish. Visitors can find here an array of traditional food and drink specialities made with chestnut.