Page 7 - Horários do Funchal
P. 7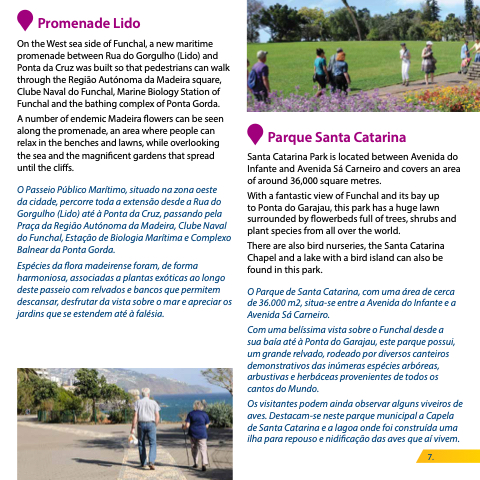 Promenade Lido
On the West sea side of Funchal, a new maritime promenade between Rua do Gorgulho (Lido) and Ponta da Cruz was built so that pedestrians can walk through the Região Autónoma da Madeira square, Clube Naval do Funchal, Marine Biology Station of Funchal and the bathing complex of Ponta Gorda.
A number of endemic Madeira  owers can be seen along the promenade, an area where people can relax in the benches and lawns, while overlooking the sea and the magni cent gardens that spread until the cli s.
O Passeio Público Marítimo, situado na zona oeste
da cidade, percorre toda a extensão desde a Rua do Gorgulho (Lido) até à Ponta da Cruz, passando pela Praça da Região Autónoma da Madeira, Clube Naval do Funchal, Estação de Biologia Marítima e Complexo Balnear da Ponta Gorda.
Espécies da  ora madeirense foram, de forma harmoniosa, associadas a plantas exóticas ao longo deste passeio com relvados e bancos que permitem descansar, desfrutar da vista sobre o mar e apreciar os jardins que se estendem até à falésia.
Parque Santa Catarina
Santa Catarina Park is located between Avenida do Infante and Avenida Sá Carneiro and covers an area of around 36,000 square metres.
With a fantastic view of Funchal and its bay up
to Ponta do Garajau, this park has a huge lawn surrounded by  owerbeds full of trees, shrubs and plant species from all over the world.
There are also bird nurseries, the Santa Catarina Chapel and a lake with a bird island can also be found in this park.
O Parque de Santa Catarina, com uma área de cerca de 36.000 m2, situa-se entre a Avenida do Infante e a Avenida Sá Carneiro.
Com uma belíssima vista sobre o Funchal desde a sua baía até à Ponta do Garajau, este parque possui, um grande relvado, rodeado por diversos canteiros demonstrativos das inúmeras espécies arbóreas, arbustivas e herbáceas provenientes de todos os cantos do Mundo.
Os visitantes podem ainda observar alguns viveiros de aves. Destacam-se neste parque municipal a Capela de Santa Catarina e a lagoa onde foi construída uma ilha para repouso e nidi cação das aves que aí vivem.
7.