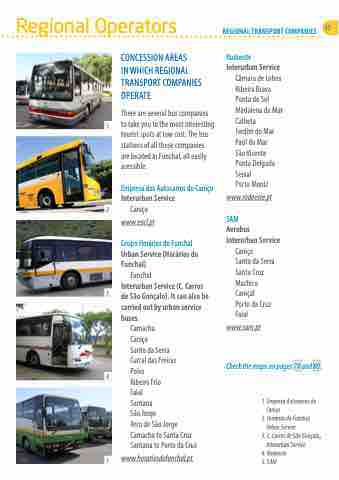 Regional Operators
CONCESSION AREAS
IN WHICH REGIONAL TRANSPORT COMPANIES OPERATE
REGIONAL TRANSPORT COMPANIES 17
    1.
There are several bus companies to take you to the most interesting tourist spots at low cost. The bus stations of all these companies
are located in Funchal, all easily acessible.
Empresa dos Autocarros do Caniço
Rodoeste
Interurban Service
Câmara de Lobos Ribeira Brava Ponta do Sol Madalena do Mar Calheta
Jardim do Mar Paúl do Mar São Vicente Ponta Delgada Seixal
Porto Moniz
www.rodoeste.pt
SAM
Aerobus Interurban Service
Caniço
Santo da Serra Santa Cruz Machico Caniçal
Porto da Cruz Faial
www.sam.pt
Check the maps on pages 78 and 80.
1. Empresa Autocarros do Caniço
2. Horários do Funchal, Urban Service
3. Horários do Funchal, Interurban Service
4. Rodoeste 5. SAM
  2.
Interurban Service
Caniço
www.eacl.pt
Horários do Funchal
Urbano Service
Funchal
Interurban Service
Camacha
Caniço
Santo da Serra Curral das Freiras Poiso
Ribeiro Frio
Faial
Santana
São Jorge
Arco de São Jorge Camacha to Santa Cruz Santana to Porto da Cruz
www.horariosdofunchal.pt
  3.
  4.
  5.